Where the licence of any person has lapsed for a period of three years or more, the Board may, before issuing to that person a licence or renewal, require that person to complete such training, examination or period of work service under the supervision of another cosmetologist as may be prescribed by the by-laws.
Please reference the Cosmetology Associations policy guide provided below, or
click
here
for a PDF version.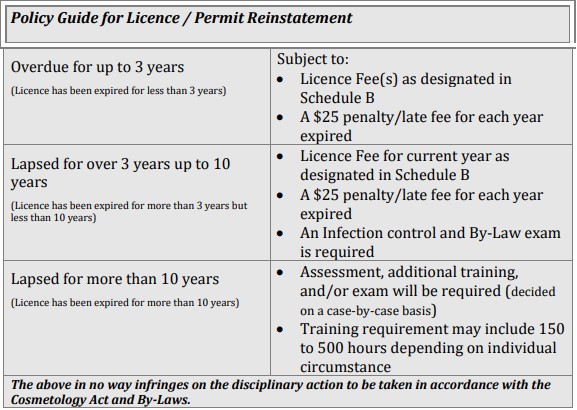 Reinstatement of Lapsed Licence Application & Process:
Individuals looking to reinstate their cosmetology licence are required to fill out the
Reinstatement of Lapsed Licence
application form found
here
and submit it to the Association for review and attach copies of any additional documentation required.
Please note: Lapsed licence due to health or medical-related reasons, require proof from your Family Physician or Nurse Practitioner.

Application Fee(s):

Fees associated with the reinstatement application are noted on page 3 herein and in accordance with the Cosmetology Act, 2012, c. 39 at Schedule B.

One-time Administrative Fee $55 plus applicable taxes are non-refundable, and due when submitting your application.

Applications can be submitted by fax (902) 468-7147, email info@nscosmetology.ca or walk-in.

Once the application and administrative fee have been received, your application will be forwarded to the Association's Executive Director for review. Once the review process has been completed, you will receive a letter of outcome from the Associations Provincial Exam Coordinator (6-8 weeks). Should your application be denied, your letter of the outcome will include the reasons why.

Please note: Incomplete applications will expire 90 days post submission.