Join the Association for the Members' Meeting and On the Road Educational Classes (below).
June 4 & 5, 2023 at The Simon Hotel (formerly Cambridge Suites) at 380 Esplanade, Sydney, NS

To register for the Members' meeting and/or a class, please email:memberresponse@nscosmetology.ca.


Quarterly Meeting: June 4, 2023

NEW TIME - 9:00 a.m to 12 Noon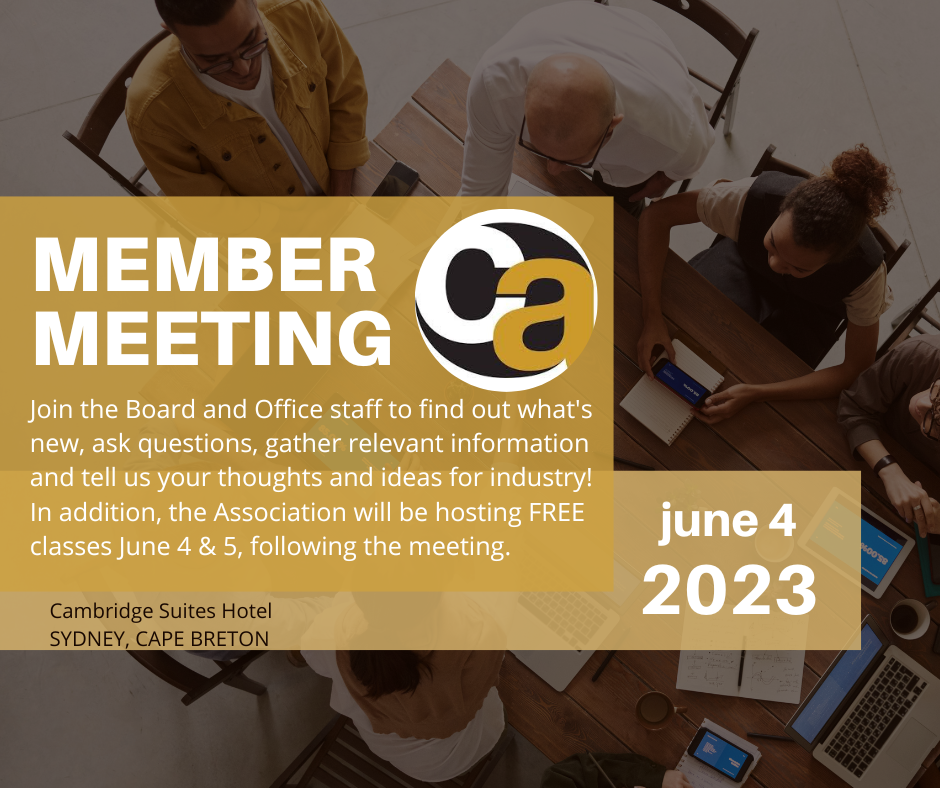 Join the Board and Office Staff to find out what's new, ask questions, gather relevant information and tell us your thoughts and ideas for industry!
In addition, the Association will be hosting FREE classes June 4 & 5, following the meeting.

Meeting Agenda:
Virtual / Hands On Education.
Members attending formal school training for additional licence levels and Members attending a non formal training professional development class. For example: A hairstylist who would like to add make-up to their Cosmetology portfolio.
Eyelash Techs providing brow tinting & lamination services.
Policy change: apartment salon and spa permits no longer issued by the Association.
AGM in person or virtual?
Mobile permit for special events ($25)
Clinical Footcare specialist.
Additional items for discussion may be added for discussion.
The Members' Quarterly Information Session and classes may be counted towards professional development requirements. Please take the time to register for the meeting and attend a class.

EDUCATION ON THE ROAD


"Workplace Wellness- a TEAM effort with INDIVIDUAL awareness".
June 5, 2023 from 9am - 4pm
Cost: Free
Learn about mental health awareness, psychological safety, workplace wellness strategies and more.
Presenter: Pam Hansen
Pam is an experienced Facilitator, Mediator, and Strategist with a demonstrated history of training and coaching both individuals and corporations in the areas of conflict resolution, mediation, and mental health First Aid.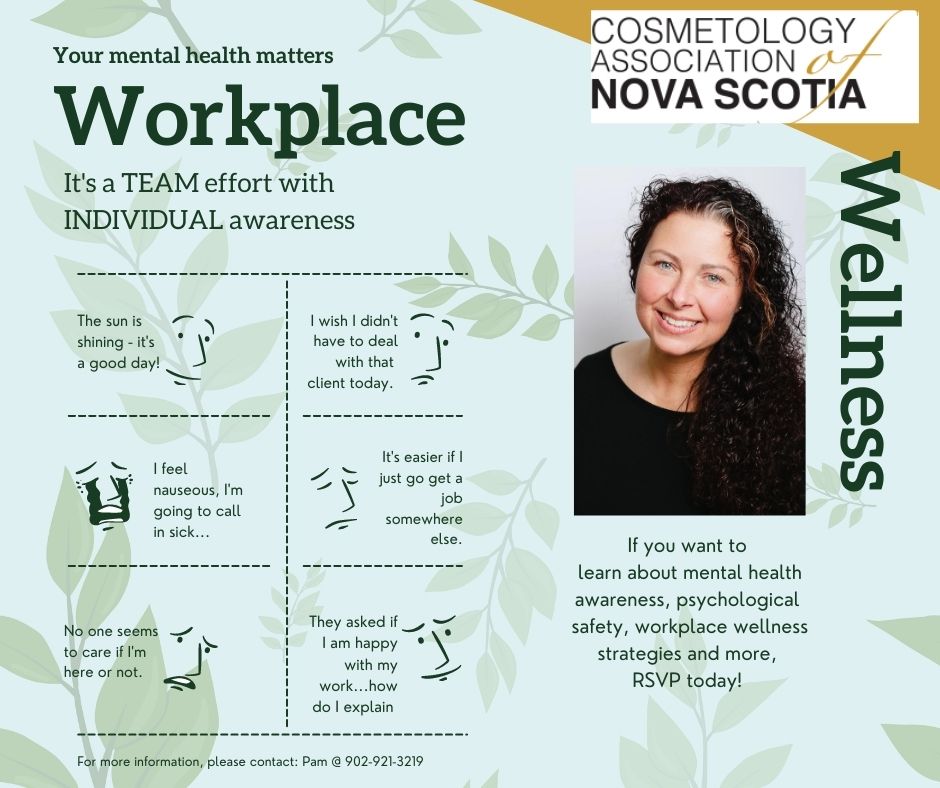 The Customer Experience – Your roadmap to salon growth and profitability.
June 4, 2023 from 1 to 3 pm

Cost: Free

How do you set yourself apart from your competitors? How do you find opportunities to grow your bottom line?
This training workshop provides a toolbox of skills for creating outstanding customer experiences. Participants will be empowered to turn loyal customers into brand advocates resulting in higher customer retention, improved retail sales, and increased service revenue streams.
Jocelyn is a Business Consultant with over 30 years in the Service Industry first as a stylist and educator, and then as Director of Operations specializing in Human Resource, Talent Development and Customer Experience. She thrives on sharing her passion and in-depth working knowledge to industry professionals.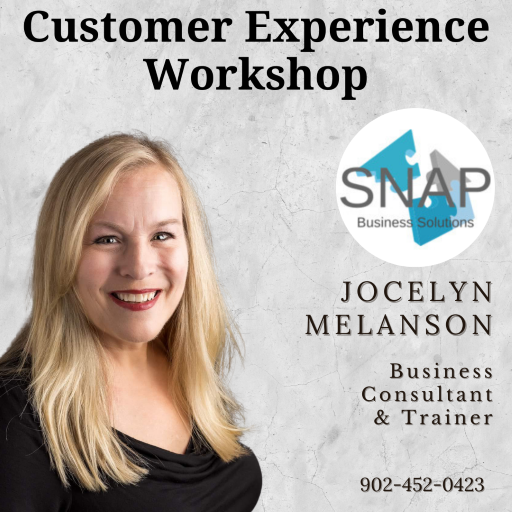 Small Business Startup - A step by step guide to business requirements.
June 4, 2023 from 3 to 5 pm
Cost: Free
Is starting your own business right for you? There is a huge opportunity for entrepreneurs to prosper in Nova Scotia. Being aware of all Provincial business requirements is the first step in getting a venture off the ground. This comprehensive workshop will guide you through all the requirements to start your business successfully.
Bobbi Brooks, Executive Assistant, Legal Compliance Coordinator, and Trainer has worked in the legal industry for over 25 years. Bobbi will lead you through the following topics:
➣ Deciding on a business structure.
➣ Business obligations for each structure.
➣ Choosing a business name and registering a business.
➣ Provincial and Municipal requirements.
➣ CRA requirements.
➣ Permits and paperwork.
➣ Association requirements.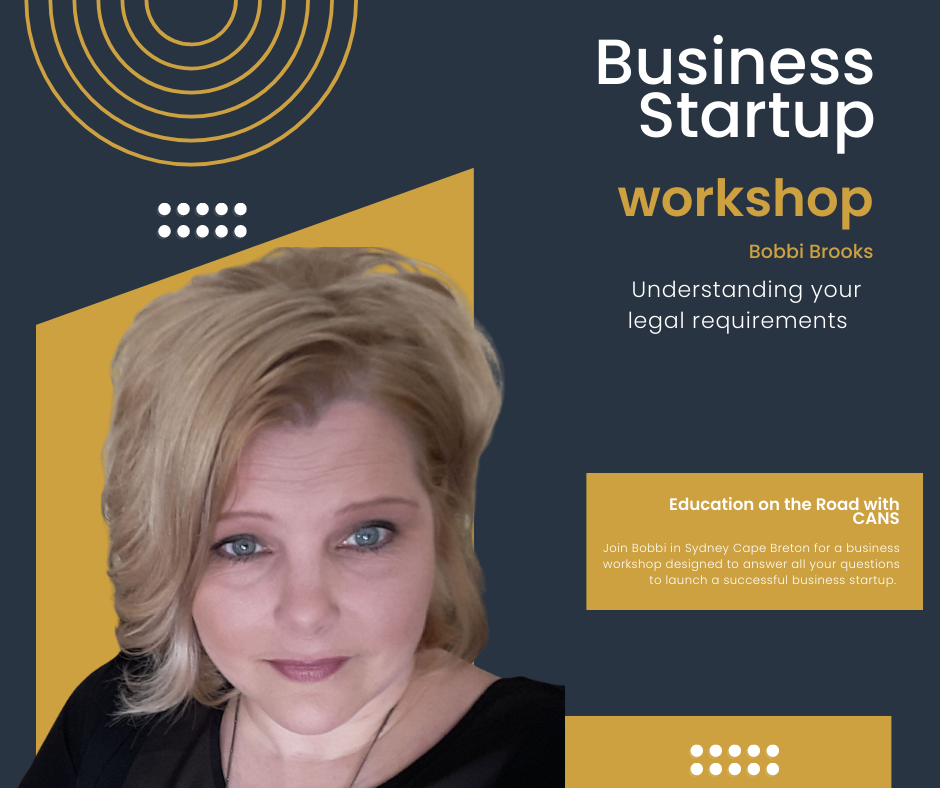 To confirm your seat for the meeting and/or a class, please email: memberresponse@nscosmetology.ca.
---

February 12, 2023 (recap)
The Cosmetology Association has been active and legislated since 1962 and has seen many positive changes throughout the years. We encourage you, as a professional cosmetologist and Member of the Association, to come out and meet your Board Directors at one of the Association's upcoming information sessions.
Quarterly meetings are held to meet with and hear from the Association's Members in a forum where Members can ask questions and obtain valid information.
Agenda;
Clinical Licensing update
New By-laws approved
EyWhen do I have to attend professional developement classes
Where do I attend professional developement classes
Added during meeting
Inspectors, Inspections
Educational classes
It is a privilege to be self-regulated and your voice matters.