Photo ID
At the request of Members to support professional cosmetologists a photo ID is now in place.
In order to maintain and ensure industry compliance and standards for the protection of the general public and cosmetologists, all cosmetologists will be required to obtain a photo ID card from the Association by no later than December 31, 2019. Salons/spas are voluntary at this time.
These new picture IDs will help guarantee to the public, distributors, and vendors that cosmetologists are licensed and in compliance with regulations and policies and have been properly trained in universal precautions and the skills of the trade/profession in order to safely provide cosmetology services to the public and shop from professional distributors. The public and distributors (like Maritime Beauty, Euro Beauty, Eastern Esthetics or others) are encouraged to check to confirm that a cosmetology licence is current and up to date, allowing them to provide professional services and to purchase supplies that should only be sold to professionals.
At your request, these new IDs should also help stop those who are not licensed members from presenting themselves as cosmetologists. All cosmetologists should promote their licence and/or permit at all times (in person, on social media, etc.)
The back of the ID or permit card has a QR code. This code allows anyone to check that a licence or permit is current and valid at any time. The app for the QR code can be found on on our website
here
and is available for download at
Playstore
and
App Store
.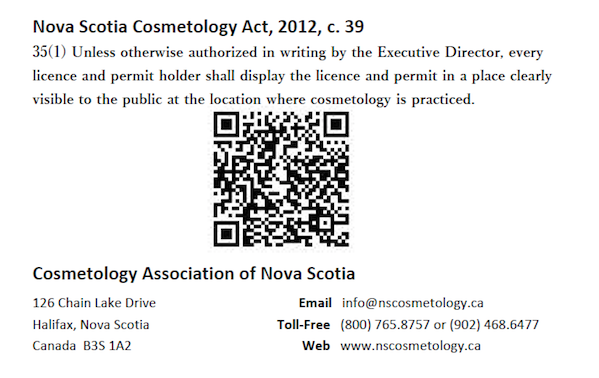 Licence cards must be visible to the public at all times while performing cosmetology services.
The first initial ID card is free with membership. Members requiring a replacement card will be charged a fee in accordance with
Schedule B
of the Association's By-laws.
PHOTO REQUIREMENTS:
Must be from the shoulders up (similar to a passport or driver's licence photo)
Facing forward with eyes open and centered
Background should be a light or white wall
No shaded glasses or sunglasses
Photo must be no more than five years old
Photo must be in color
Photo must be saved as .JPEG or .PNG
Salons and spas may use a business logo or upload a photo of the salon facility
Example: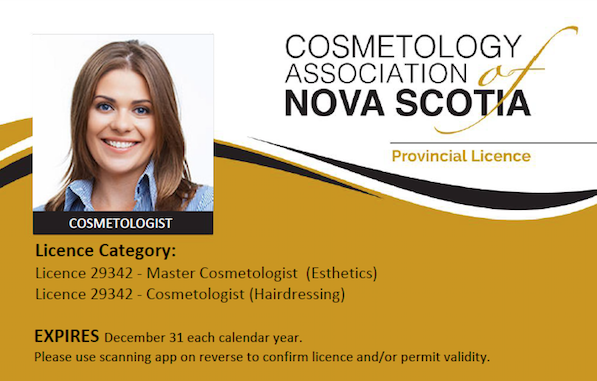 If you are ready to upload a photo and have a member login and password, visit the
Member login
area.
Confirm your current email is on file with the Association, as the email in the Association's system is your username. If your email is not on file or you have trouble logging in, please contact the Cosmetology Association at (902) 468-6477 or email
info@nscosmetology.ca
for assistance.
PLEASE NOTE: If you have a personal and a salon account, you are required to have

two separate email addresses

. If you have the same email address for both accounts, you will only be able to access one account as

they are not linked together

.
If you do not have a password but your email is on file, go to the
Member login
page and click on "
Click

here

to retrieve your password." You will be redirected and asked to re-enter your username
and a new password will be emailed to you.

HOW TO UPLOAD A PHOTO:


To upload your personal or salon photo/logo, please follow the steps below:
Step 1

Visit the Association's website and click
LOGIN
in the upper right corner of the main page to access your account.
Step 2

Once you have gained access to your member account, click the option "
Upload Photo
."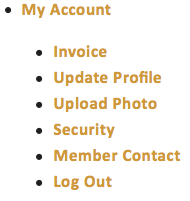 Step 3

Choose an image from your device (.JPEG or .PNG format only) and click
open
and then
attach image
.

Please review your uploaded photo to ensure it meets the Association's photo ID requirements. Any photos that do not meet these requirements will not be issued
.
Once your photo has been successfully uploaded, please contact a CANS associate so we can print and mail out your new ID card (as the system does not send automatic notification when a photo is uploaded.)
PAYMENTS
Payments to the Association can be made in person, by phone, through regular mail or by logging into the
Members area
.
The following forms of payment are accepted:
Cash
Cheque or Money order
Debit Visa
Visa
MasterCard
Money transfers are unavailable at this time, although we hope to have e-transfer available sometime in the future.
Online payments:


To make an online payment, please follow the steps below:


Step 1
In your account menu, click "Invoice"
Step 2

Under transactions you will see a list of invoices; click on the box "Make A Payment."

Step 3

Click "Pay" on each invoice you wish to apply payment to, and then click on the box "Proceed to Payment."

Step 4

Under outstanding invoices to be paid, enter your credit card number, expiry date, and security code (CVV) and then click "Process."





IMPORTANT

: Please make sure to click the process button ONLY ONCE, to ensure your credit card is not charged a double payment. If a double payment occurs, please contact the Association at (902)468-6477, ext. 201 to have your payment reversed.