Atlantic Coffee Connection - WOHSS (Women in Occupational Health & Safety Services
(Free)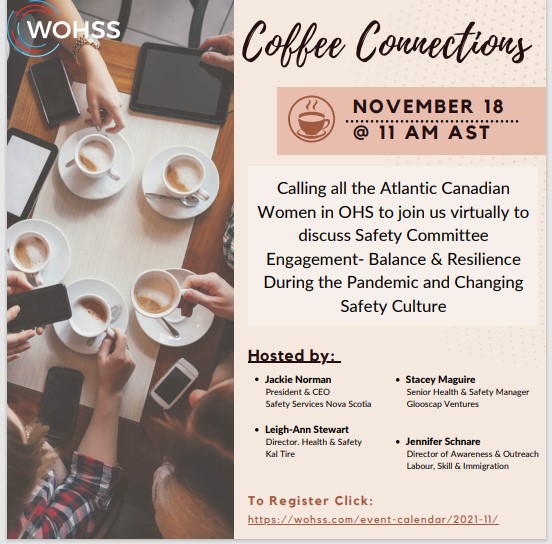 Calling all Atlantic Canadian Women in OHS! Join us to discuss and connect virtually over coffee. Hosted by Jackie Norman, Jennifer Schnare, and Stacey Maguire. During this coffee connection you will have options. We will provide the following 3 different break out room topics:
GROUP 1 Safety Committee Engagement – Lead by Jackie. Sharing ideas to engage safety committee members – what has worked – what hasn't.

GROUP 2 Balance and Resilience Through the Pandemic – Lead by Jennifer. Sharing stories on how the balance worked with kids at home and other distractions and the stress the pandemic has caused on work life/home life (and the blurring of those). Also, positives.
GROUP 3 Safety Culture – Lead by Stacey. Sharing thoughts around safety culture – has your safety culture changed at work? Are employees more open to everyone's responsibilities and sharing in a positive safety culture.
Come join in the discussion or come and listen; this is your time, you choose.


To register: CLICK HERE